Get the best admin dashboard template from these marvelously tailored dashboards for monitoring and measuring the performance of your business. Explore this collection and get ready to bear fruit!
Admin dashboards provide an effective gauge for one's business either analytical, operational or strategic. With this tool, businessmen can keep track of key performance indicators that are necessary for success. Additionally, through dashboards one can measure the effectiveness of the strategies that are newly adopted to the business. By having convenience shortcuts for management tasks you will effectively monitor performance real quick.
Well, it's no doubt that this tool is undeniably effective, practical and innovative. That's why we see a lot of admin dashboard templates in different marketplaces on the web. Well, if you're looking for one, you might be interested in these best selling, well-designed templates at ThemeForest. Don't miss this list, choose the best one that suits your needs and increase productivity!
Metronic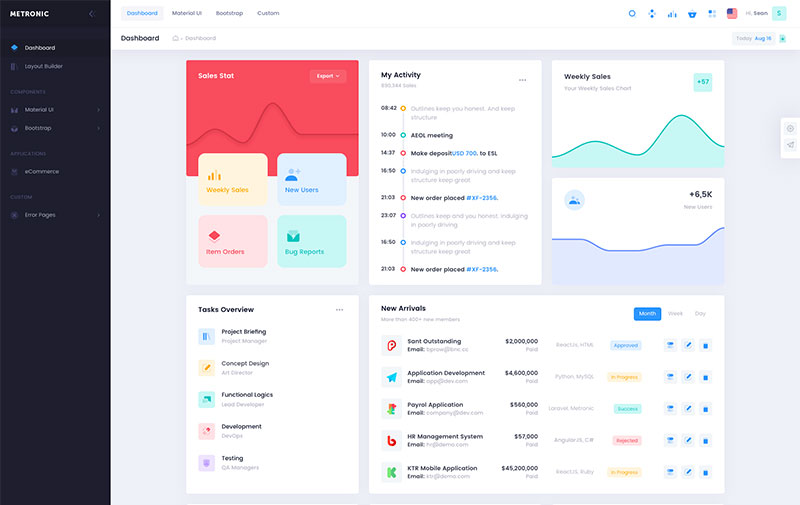 Metronic is one of the most popular and best selling dashboard template in the web. Well, who can ever resist this comprehensive template for their businesses? As it comes with different versions of dashboards, users can pick the one that they prefer. Whether a user needs Angular version, React, VueJS, Laravel or HTML dashboard template Metronic can be your best choice. It comes with 10+ prebuilt demos and more awesome demos coming.
Porto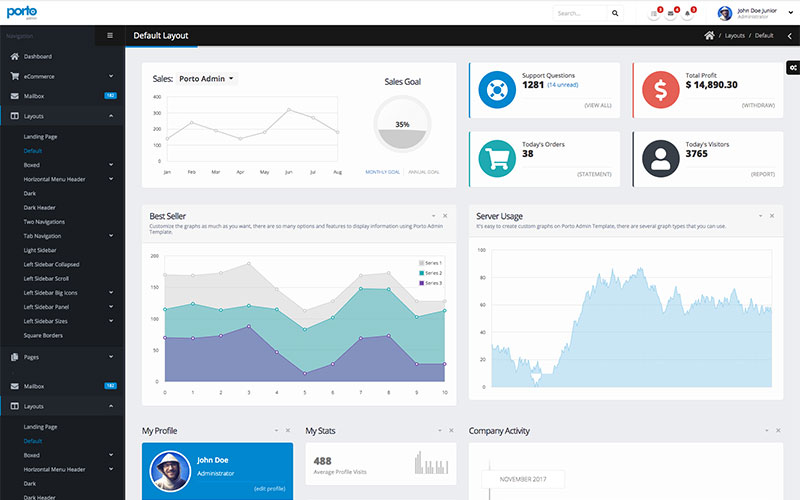 Porto is an awesome admin dashboard template with 20+ included dashboards, 100+ HTML files, coupled with super high-performance features and extremely easy to customize. Additionally, this admin dashboard is optimize for performance for the success of every brand. Aside from that, it also comes with unlimited colors and skins.
Dashforge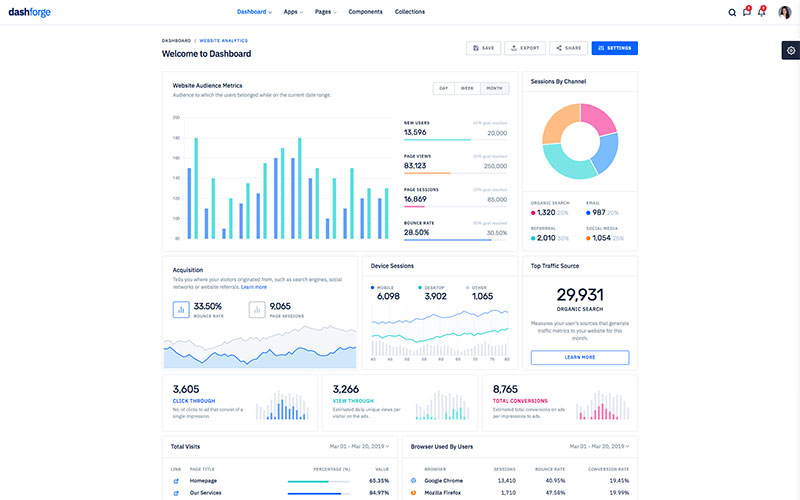 Dashforge is a premium admin dashboard template with clean, simple but professional design. It's crafted using the latest Bootstrap 4 version plus awesome flexibility. It comes with 3 prebuilt dashboard templates perfect for sales monitoring, website analytics, cryptocurrency and Helpdesk management. Aside from that, prebuilt apps are included in the package too – mailbox, chat, contacts, file manager, calendar and more while the prebuilt pages include signin, signup, error pages, etc.
Cork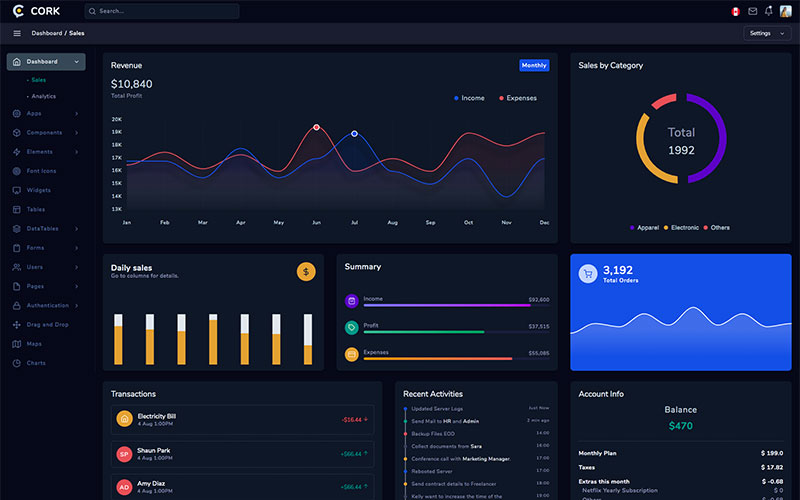 Another powerful admin dashboard template you need to look out is Cork. If you don't know which layout or color version you prefer, it's not a problem at all. With this template, you will have ample options on how to set up your dashboard. You can pick from diverse layouts as well as the light or dark versions. To help you kickstart your project with ease, various functional apps are added in the package too. These include chat, calendar, contacts, notes, mailbox, to-do list, invoice and scrumboard. This lightweight template also comes with Laravel Version.
Pages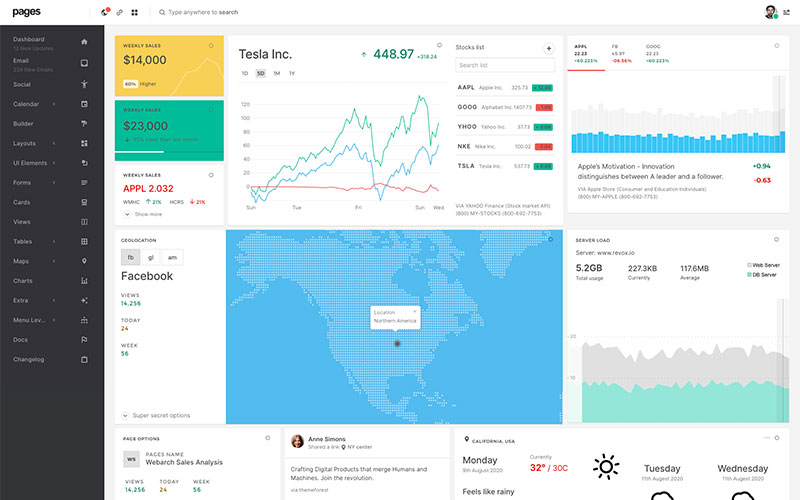 Pages is a clean and intuitive admin dashboard template with fully responsive design. It comes with 5 useful layouts available both in HTML and Angular versions. With Pages you can build your dashboard the simplest and fastest way. It's packed with awesome UI features, useful forms and pages that will be beneficial for one's business. This admin template has clean code, fully responsive and lightweight.
Fuse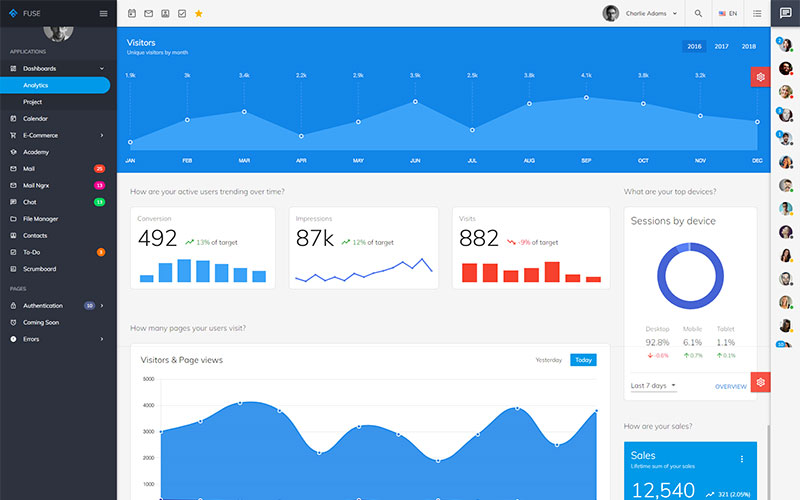 Fuse is packed with awesome features, remarkable built-in applications and pages. This powerful and professional admin template for Web Applications, CRM, CMS and Admin Panels is a great kickstart for useful projects and applications. It comes with Angular 8+, Angular Material and Google Material Design with dark and light color theme options.
Remark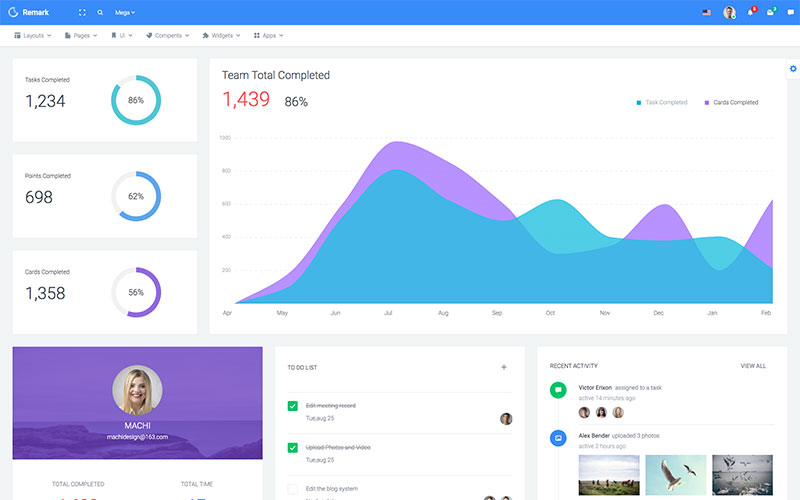 Remark is a bootstrap 4 admin dashboard template that has powerful components built with scss/less css which makes it easy to modify. It has a clean, intuitive design that can help you successfully achieve your business goals. Specifically, it comes with 1000+ UI components, 100+ widgets, PSD files, Quick Chat Panel, foldable navigation and so much more to explore!
Limitless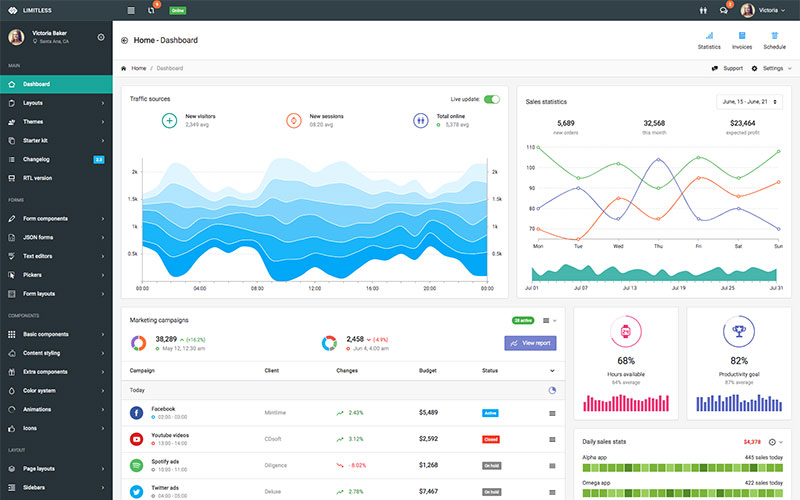 Limitless is a powerful and super flexible tool, which suits best for any kind of web application. This admin template includes 1 main and 3 alternative layouts, 1000+ commented HTML pages, 1000+ components with different features and options, 100+ plugins and extensions that smoothly function to provide optimum possibilities.
Light Admin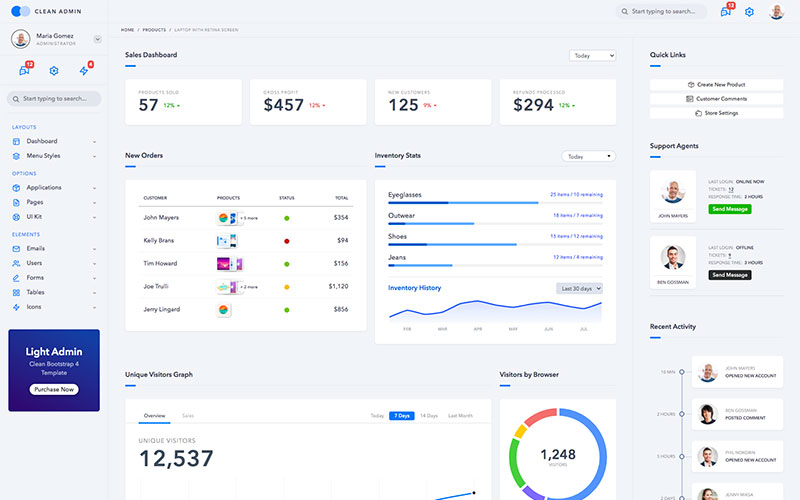 Light Admin is a bootstrap 4 admin dashboard template with super clean and lightweight design. This template contains multiple form layouts, form wizards, chat agents, pie, line, and bar charts developed using Chart.js and many more incredible features.
UBold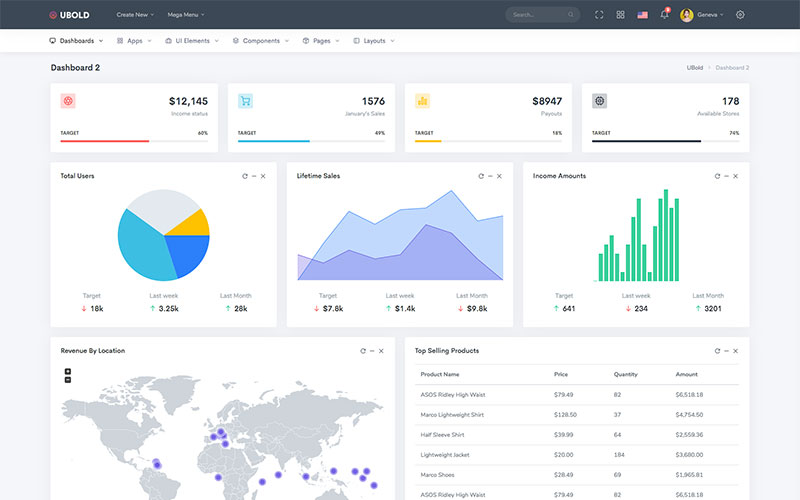 UBold is a premium bootstrap 4 admin dashboard template with excellent features, plugins, and elements. Built using HTML5, CSS3 and jQuery this template is ready to bolster every developer's goal. Specifically, it has 1800+ pages, 500+ UI components, 110+ charts, 6+ built-in apps and more. Additioanlly, it comes with other versions such as React, NodeJS and Django, Angular, Vue and Laravel.
OneUI
OneUI is a super flexible Bootstrap 4 admin dashboard template and UI framework with Laravel support. It enables you to craft diverse pages with a similar powerful layout. Furthermore, it is built with Sass and ECMAScript 6 (ES6) and comes packed with smart developer tools such as webpack 4, Babel 7, Gulp 4, Autoprefixer and Browsersync which will save you time and help you build your project faster and more efficiently.
Clean UI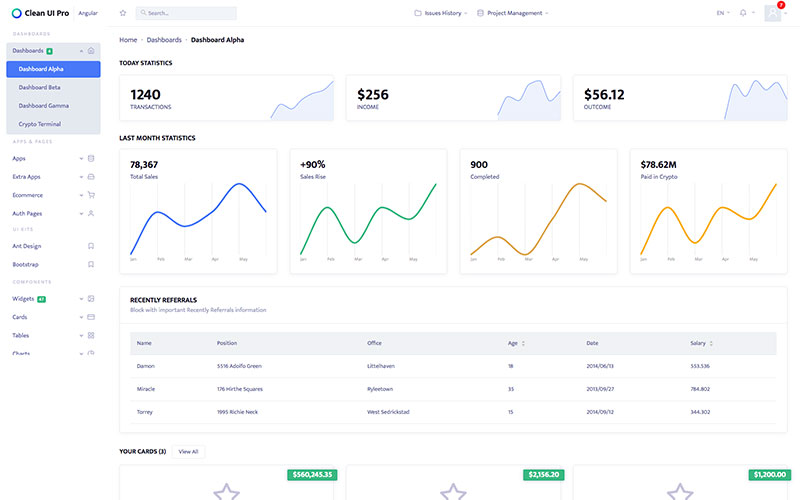 Clean UI is a modern, professional admin template, based on the Bootstrap 4 framework. It's a powerful and super flexible tool (6 color schemes, 2 menu positions, 7 theme options) , which suits best for any kind of web application, CRM, CMS, Admin Panels, Dashboards etc.
Robust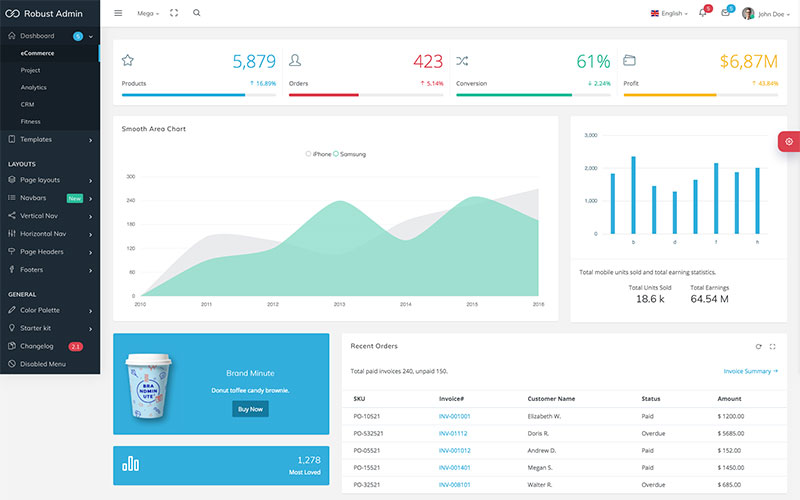 Robust is a responsive admin dashboard template built using Bootstrap 4 framework. It has a clean, extremely flexible and modern template with unlimited possibilities. It has 7 pre-built templates with organized folder structure, 2500+ pages, 1000+ components, 500+ charts, 100+ advance cards (widgets), 100+ plugins – extensions and many more.
Elite Admin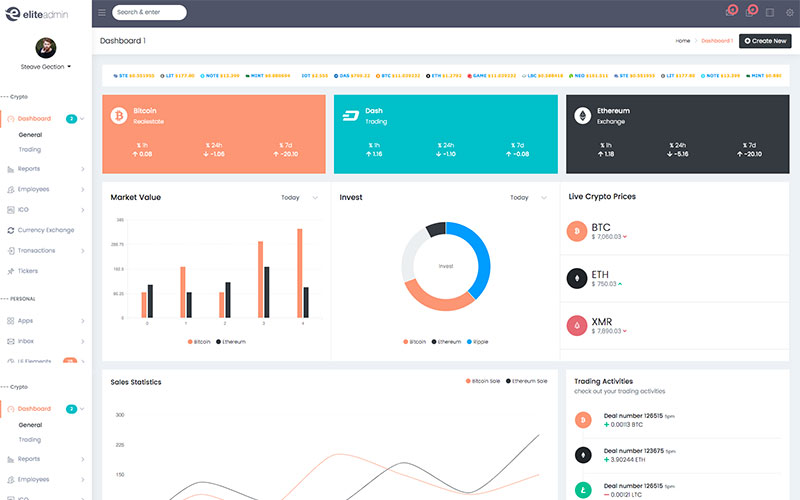 Elite Admin is a multipurpose Bootstrap 4 admin dashboard template with flat design. It has 12 different dashboards, 20 different demos, 2000+ pages, 500+ UI components, 3000+ font icons. Additionally, Elite Admin is ideal for Web applications like custom admin panel, app backend, CMS or CRM.
FlatLab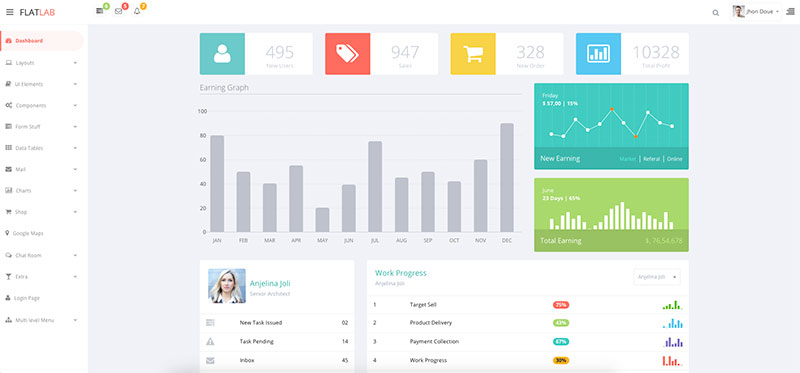 Flatlab is a premium Bootstrap 4 admin dashboard template with a real flat design concept. It's fully responsive with a huge collection of reusable UI components and integrated with latest jQuery plugins. Moreover, this admin template is lightweight and easy to customize. It can used for all type of web applications like custom admin panel, project management system, admin dashboard, application backend, CMS, CRM, business website, corporate, portfolio, blog etc.
Stack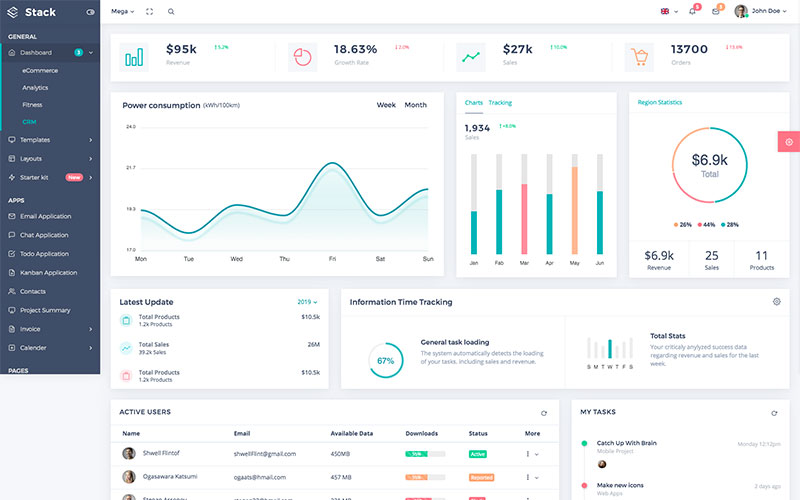 Stack is a Bootstrap 4 admin dashboard template with unique and incredible features. It is ideal for any web applications including project management, eCommerce backends, CRM, analytics, fitness and so on. Stack comes with 3 niche dashboards, 8 different menu types, 14 color schemes, 6 form layouts, bootstrap card UI and many more powerful components.
Able Pro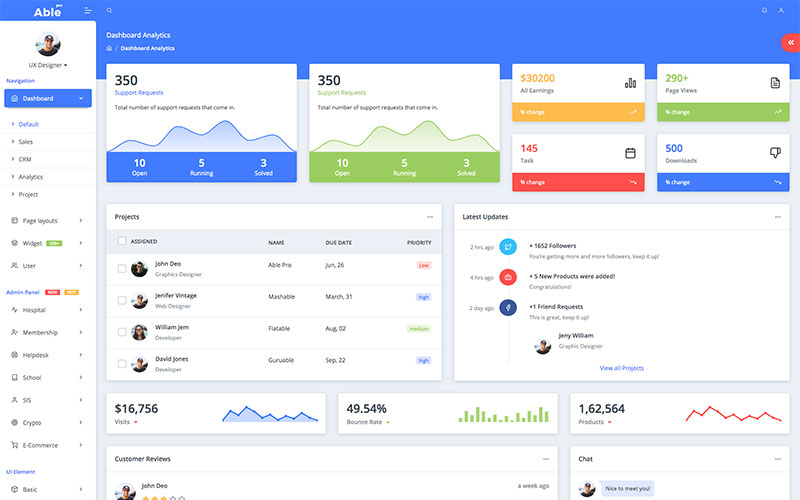 Able Pro is a fully responsive Bootstrap 4 admin dashboard template with so much possibility. It has 5000+ icons, 1000+ UI elements, 500+ theme UI options, 11 page layouts, 150+ pages and 4 dashboard layouts. Apart from that, you can pick from the different versions of Able Pro, from dark, light, vertical, horizontal, RTL or box.
NobleUI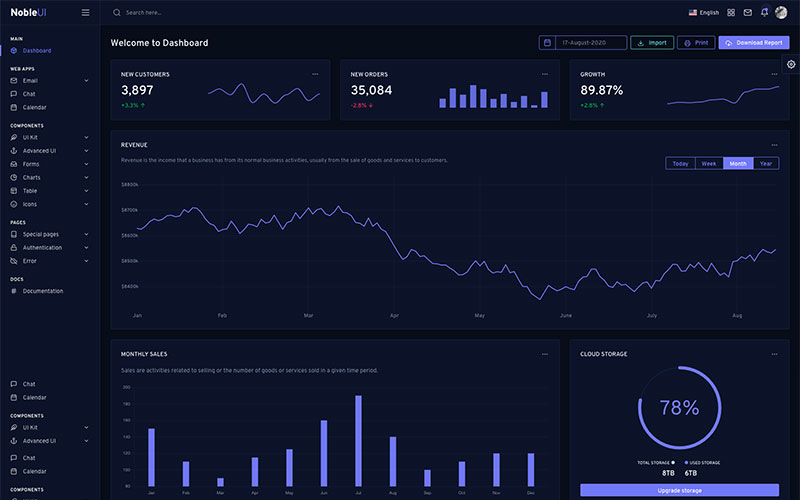 Beautifully crafted admin dashboard templates are widely available on the web these days. Hence, you can possibly pick the best that well suits your preferences. Just a little tweak and you're good to go. NobleUI is another template you need to explore for your projects. It's a Bootstrap 4 template that is powerful, lightweight and developer-friendly. It comes with creative demos in light and dark themes for your dashboard as well as awesome applications.
Slim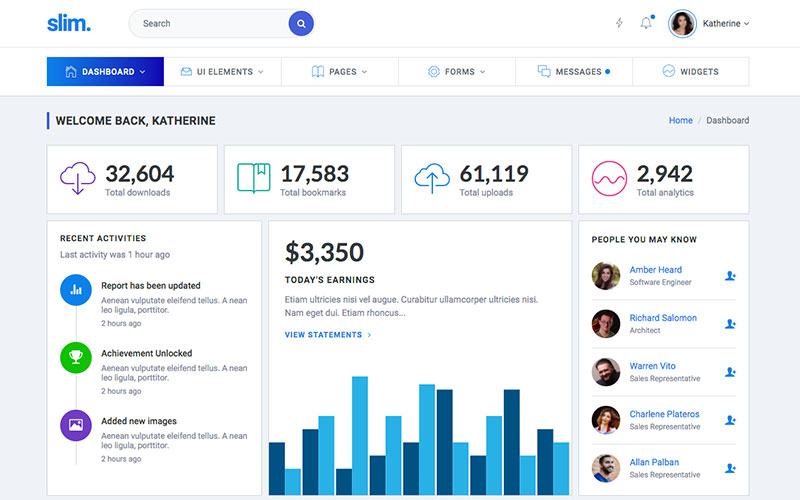 Slim has a modern design of the admin dashboard template perfect for desktop or mobile applications. This Bootstrap 4 template is fully responsive built using HTML5, CSS3, jQuery plugins and SASS preprocessor. It comes with various demos so users can pick the one that best meet their needs. It also offers dark and light skin modes as well as the RTL layout and sidebar.
Dashlite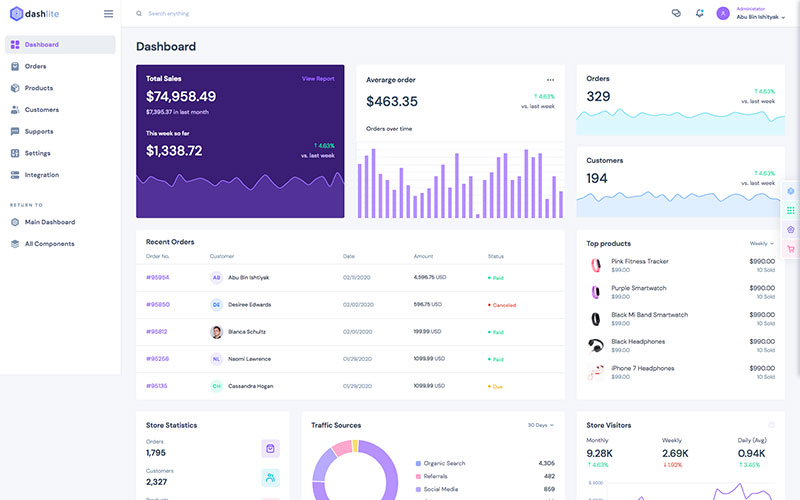 DashLite is a great admin dashboard template that is quick and easy to customize. If you're a developer or programmer looking for a powerful admin template, you shouldn't miss this tool. DashLite comes with 7+ use-case app concept, 5+ dashboard layout and 90+ prebuilt screens. Apart from that, this premium template has a great UI interface including user experience. Check out this amazing tool for your project today!
Frest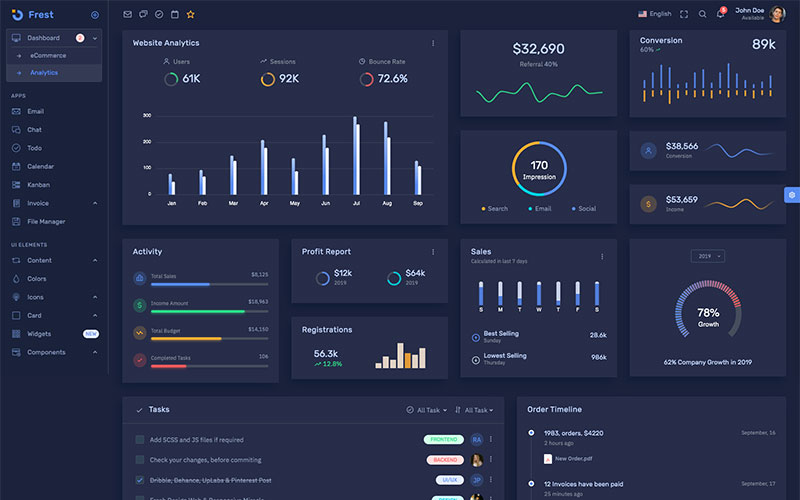 Built with clean and minimal design, Frest is another worth to check the admin template in this collection. It is tailored using the latest Bootstrap and latest Laravel versions. With this tool, users can expect to have an HTML version or HTML+Laravel too. Additionally, the features also make this template useful and practical which includes easy navigation, quick search function, handy bookmarks and more!
AdminPro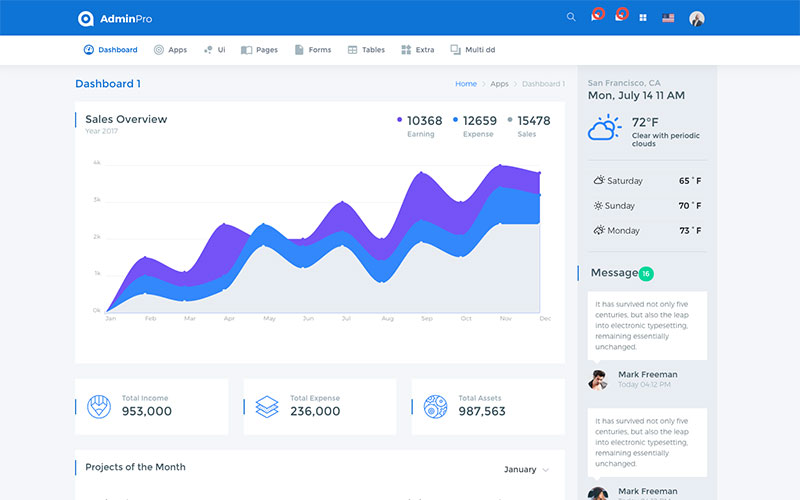 Ideally, admin dashboards have clean and modern design. Well, let these templates exceed your expectations as you scroll through the list. AdminPro has 4+ different dashboards and 7 different demos with light and dark color schemes. In addition, this premium tool has 800+ pages, 500+ UI components, lots of widgets, 3000+ font icons and a lot more features.
This post contains affiliate links. If you make a purchased through these links, we will earn a little commission at no extra cost to you.