In a convenience-focused society, most consumers are hooked to online shopping. Hence, eCommerce has become a great and versatile system for businesses and consumers. As a matter of fact, 67% of Millennials prefer to shop online rather than in-store. And, Statista anticipates that Global Retail Ecommerce Sales is projected to grow to 6.54 trillion US dollars in 2022. So, if you are planning to build an online shop soon you might want to see these handpicked WordPress themes first. Here are free WordPress eCommerce themes to help you build an effective eCommerce website in no time!
A strong web presence for your brand is a demand these days. And if you're not into it, you may have missed huge opportunities for your business. Hence, we've handpicked these irresistible and innovative yet free WordPress eCommerce themes.
Since Internet Retailer reveals that 30% of all eCommerce sales come from a mobile device, we made sure that these themes look good on mobile or smartphones. With a mobile-friendly website, you can increase your reach and open greater opportunities.
Furthermore, these WordPress eCommerce themes allow you to sell anything beautifully with the use of WooCommerce plugin. WooCommerce is the world's favorite eCommerce solution that gives both store owners and developers complete control of the business.
So, what are you waiting for? Check out these awesome and free eCommerce themes now and kickstart your online store seamlessly.
NewStore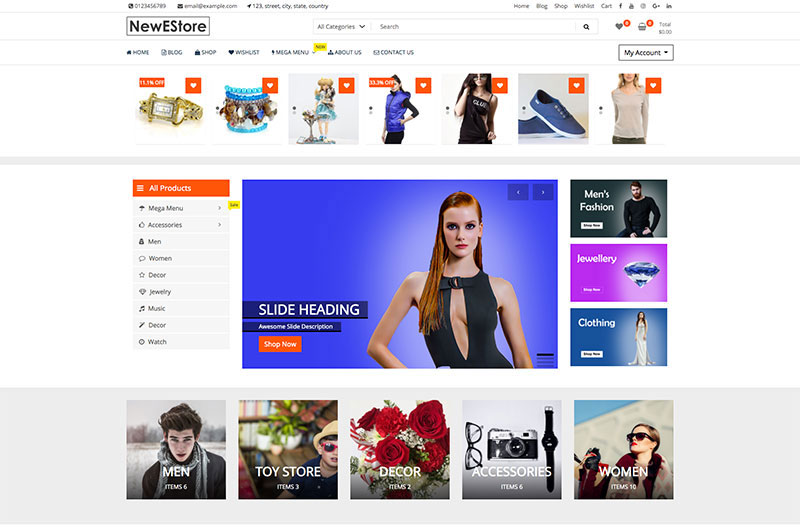 Want to build an online store for your business? Skip the stressful, tedious website coding and get yourself a useful and innovative free WordPress theme. NewStore is a WordPress eCommerce theme that's ready to help you build an awesome shop. It's based on the Bootstrap framework so it's guaranteed to have a mobile-first website with this theme. Whether you sell clothing, gadgets, books, jewelry, electronics, or any kind of stuff, NewStore is a cool choice. It supports popular WordPress plugins including Elementor Page Builder, Contact Form 7, WooCommerce and more!
Ultimate eCommerce Shop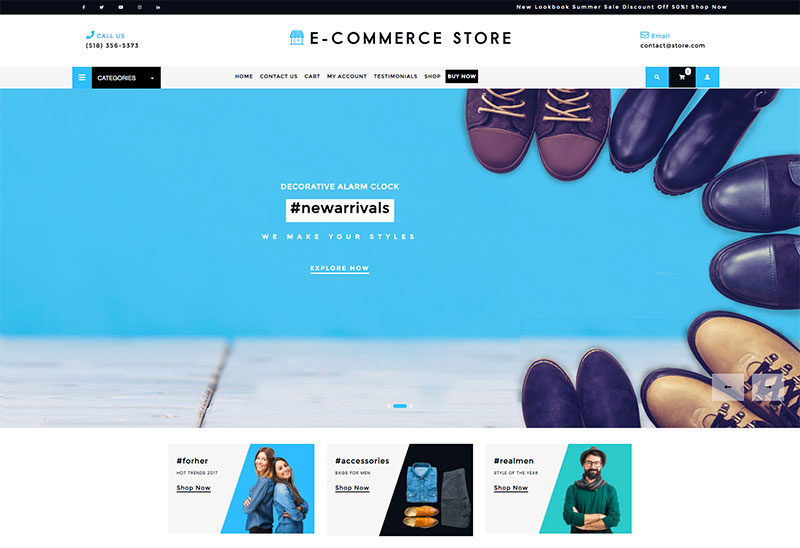 A free WordPress ecommerce theme that's worth to include in this awesome collection is Ultimate eCommerce Shop. This theme has a neat and modern design that can make your shop stand out! Ultimate, as its name implies, has a unique, beautiful and probably the ultimate choice you can get for free! This WooCommerce WordPress theme is feature-rich and is built with cool functionality. Ultimate is also mobile-friendly, retina ready and supports multiple page layouts. See how it can boost your business, so download it now and enjoy!
Agency eCommerce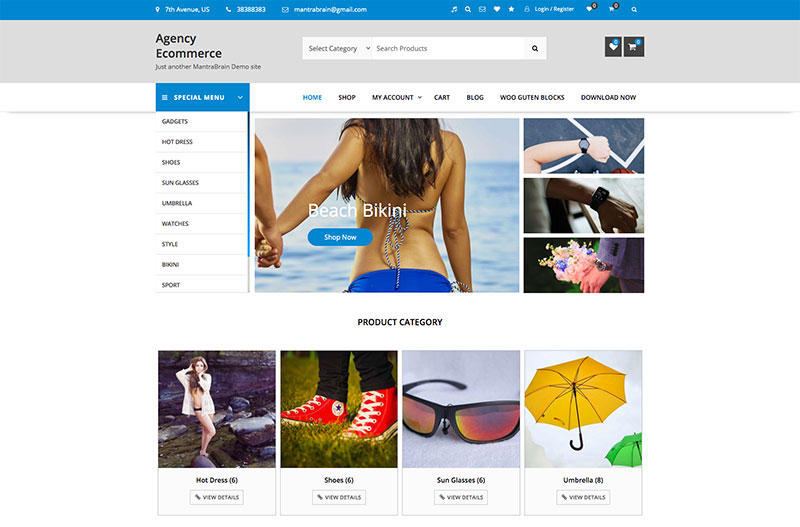 Tired of looking for the finest WordPress eCommerce theme? Well, here's a free one that you can enjoy for your projects. Agency eCommerce is a resourceful, powerful and dynamic eCommerce WordPress theme perfect for any type of products an entrepreneur would like to sell. It is packed with advanced widgets, powerful plugins, and other striking features. As it is powered by WooCommerce, there's a lot of grandeur eCommerce features you'd love with this theme. Basically, you can use this for fashion store, sport shop, jewelry store, digital product store, affiliate and any kind of product selling site.
VW eCommerce Store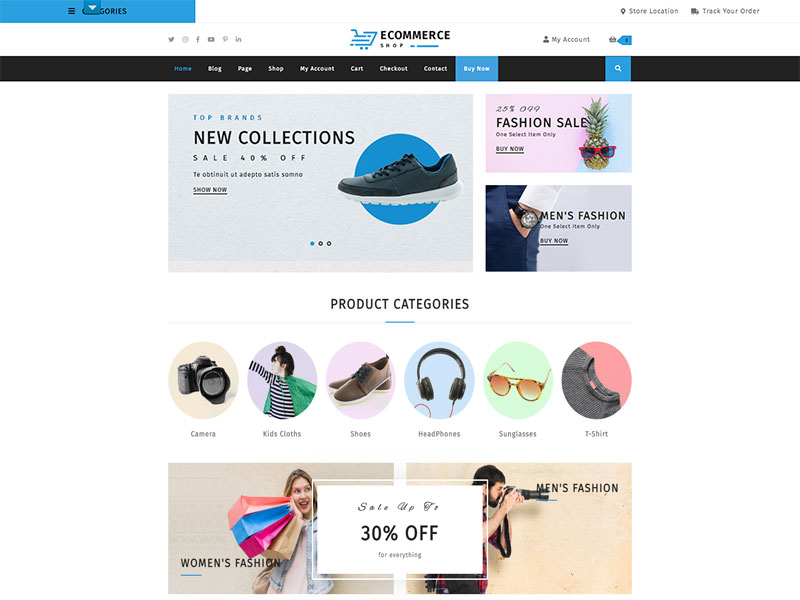 Planning to start an online store soon but don't have the best theme to utilize? Check out VW eCommerce Store and kickstart your project. It's a free WordPress eCommerce theme ideal for any shop-related business. This Bootstrap theme is sure to render a mobile-first design to diverse devices. Hence, potential customers will be able to have a nice shopping experience and in turn, you get more opportunities for your business. The homepage has a lot to feast the eyes with including sliders that showcase featured products, search features, best-selling products and more to explore!
Envo eCommerce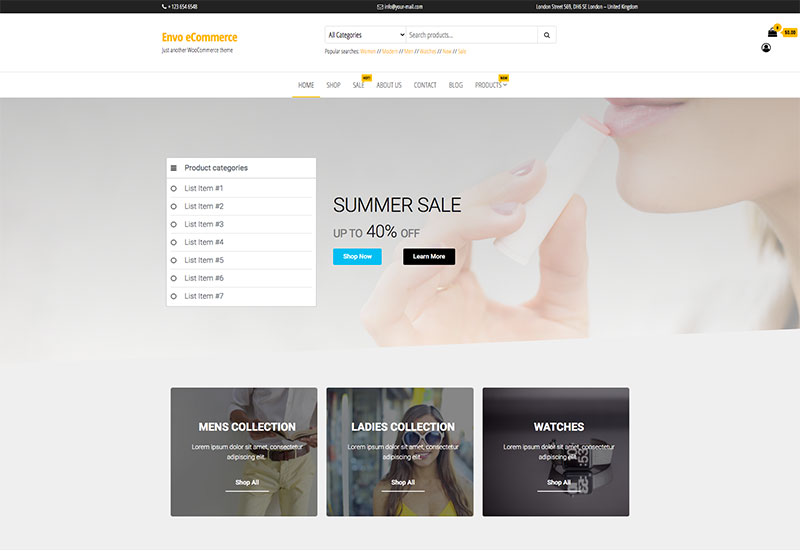 To help you acquire the best yet free WordPress eCommerce theme from the enormous resources on the web, we've collected these magnificent themes for you. Envo eCommerce is another fast, clean and innovative tool worth spending your time with. Aside from the remarkable functionality it possesses, it also comes with powerful plugins such as Elementor, KingComposer, Beaver Builder, SiteOrigin, Thrive Architect, Divi, Brizy, Visual Composer, etc. The theme is responsive, super fast, SEO friendly, WPML and RTL ready too.
Di eCommerce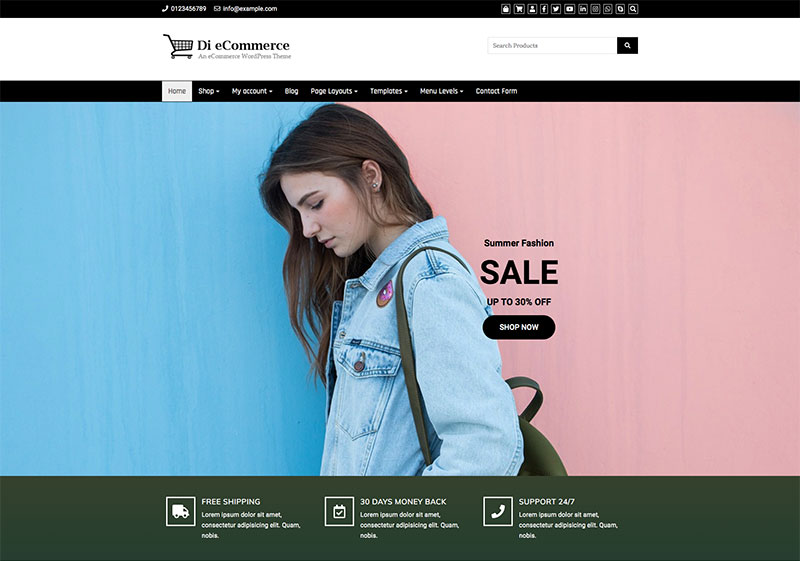 Most of the brands that sell products today have web presence to generate more leads and revenues. If you're planning to adopt such a scheme, you wouldn't want to miss these free WordPress eCommerce themes. Di eCommerce is a responsive, SEO friendly theme jampacked with useful plugins. These include WooCommerce, Quick View, Wishlist, PDF Invoices and Packing Slips, Easy Forms for Mail chimp, Contact Form 7 and more! Other notable features include social profile widget, page builder plugins, and more!
eCommerce Shop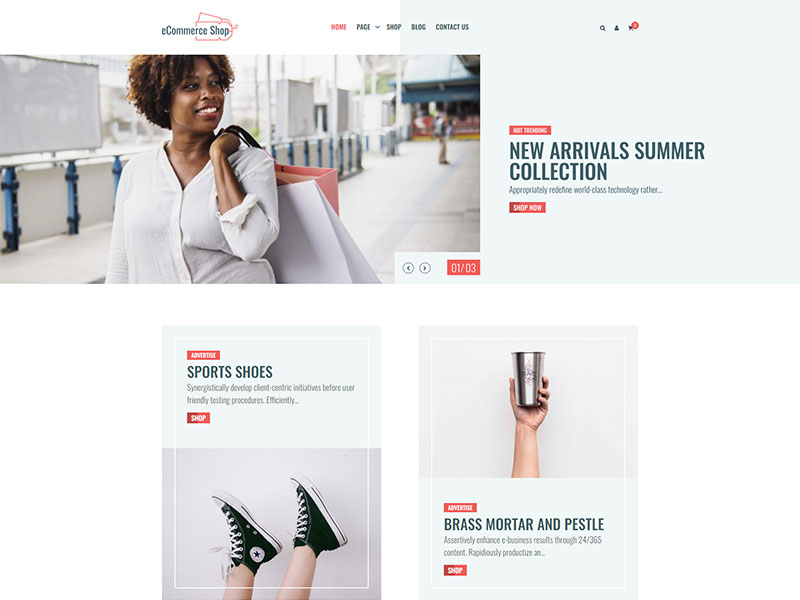 Build an efficient online store with these free WordPress eCommerce themes. See which theme you'd like to acquire for your own store or for your client. eCommerce Shop is a multipurpose theme that can showcase your products or build an online store with ease. It is fully responsive so visitors in your website will have optimum viewing experience. With this theme, displaying your product in a striking manner is possible. It also comes with nice sliders, parallax effect, product catalog and more!
Supermarket eCommerce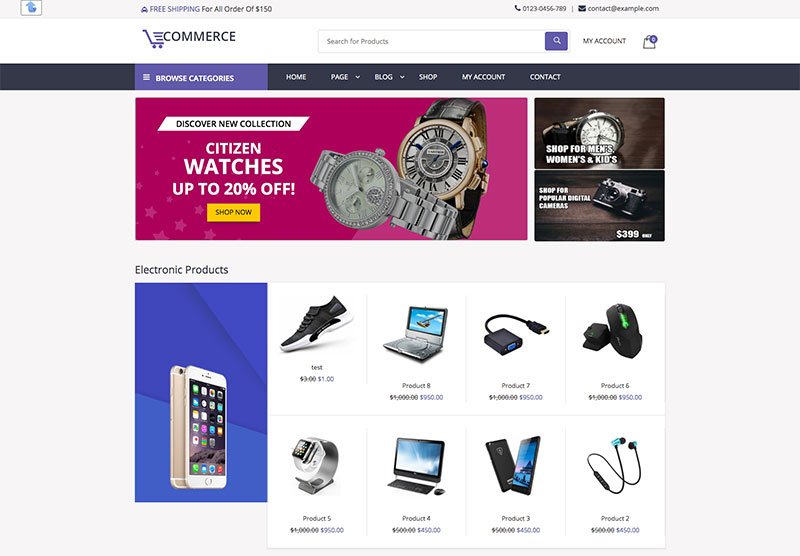 Want to put up an online retail store? Don't skip this list and let your business soar! Supermarket eCommerce can be the ideal tool you've been waiting for to put up your online store! This free WordPress eCommerce theme has a clean and modern design. It fits for any products you want to sell online with responsive design layout. So regardless of the device the customer is using, the features and functionality will always be seamless.
Gutenshop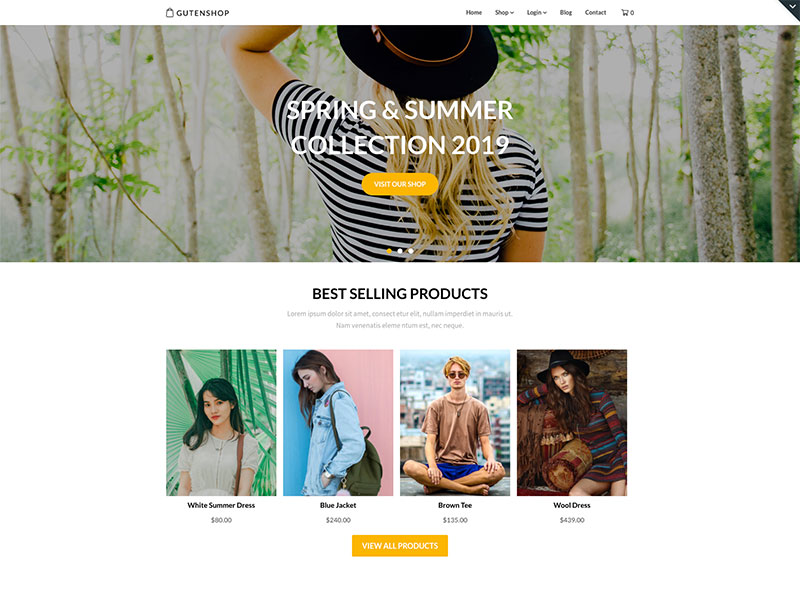 This bunch of free WordPress eCommerce themes will clearly bolster your business. Hence, don't ever miss exploring it for your own store or for a client. Gutenshop is an ideal theme for web shops, online boutiques and similar stores. It has a clean and minimal design that can display your products nicely. Moreover, the theme is also fully responsive hence you can provide awesome shopping experience to your customers regardless of the devices they use in accessing your store. It's also SEO Optimized that promises to give awesome performance of your website.
eCommerce Lite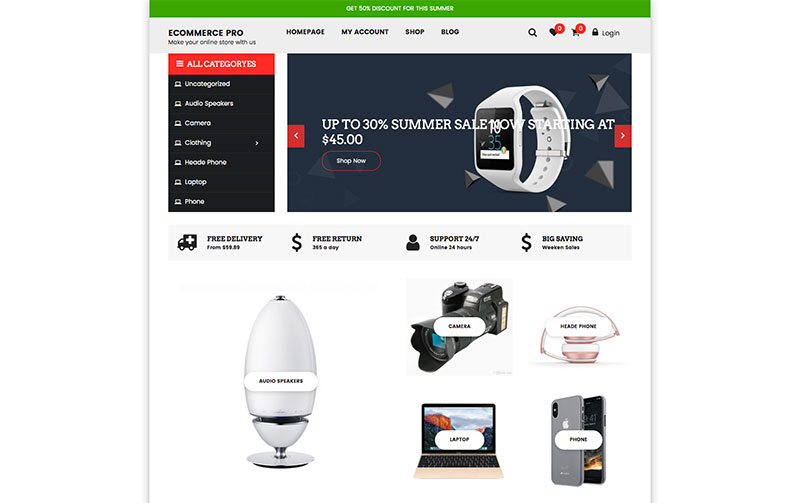 Build a nice, functional store with these free WordPress eCommerce themes. ECommerce Lite is a resourceful, modern and minimalist theme for entrepreneurs worldwide. Though it's a lite version, it can never fail to boost your business online. You just have to integrate your content into it and your awesome store is just a few clicks away. The homepage is packed with seamless web elements ideal for an online store including banners, service options, categories, discount offers, search, cart list, login and more!
eCommerce Solution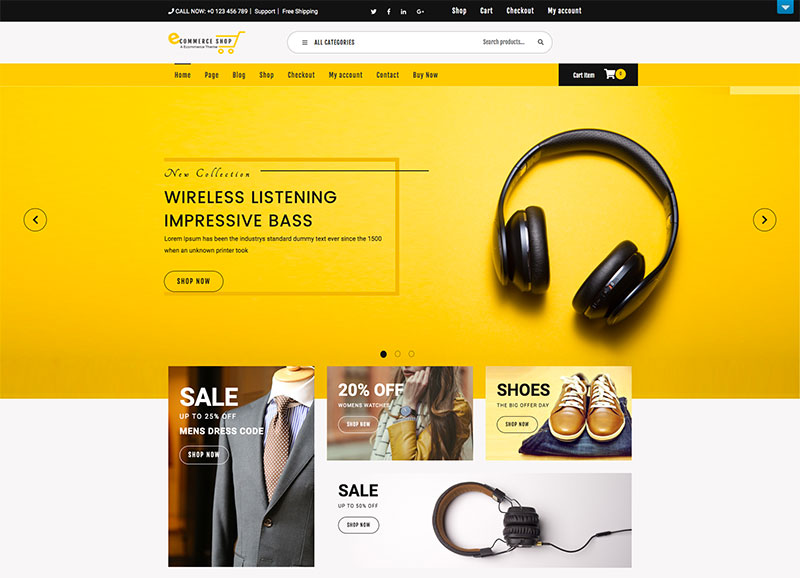 Make your store impactful with an innovative, beautiful and comprehensive theme. eCommerce Solution as its name implies is a grandeur solution to your eCommerce needs. Whether you plan to build an apparel shop, jewelry, furniture, grocery and the like, you can always trust eCommerce Solution. This theme can provide customers a smooth browsing experience in different platforms. It has ample elements added to the theme to make it useful and practical. It utilizes a fullwidth banner to display the latest products your store has. Check out this amazing theme today!
Advance eCommerce Store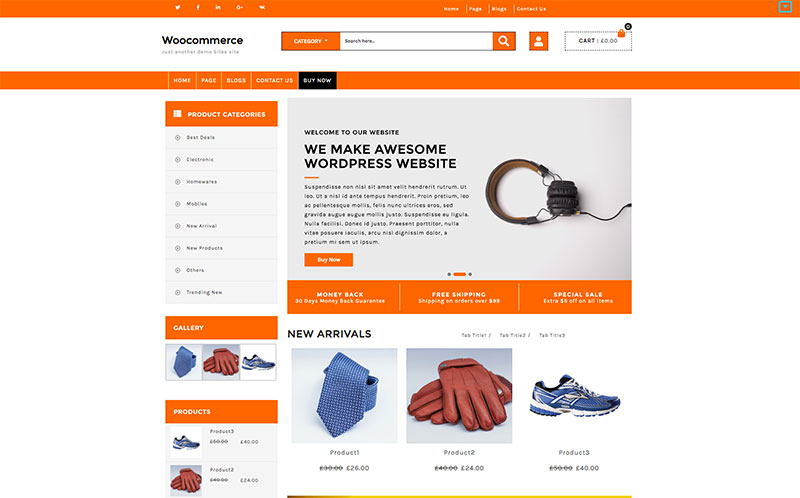 Advance eCommerce Store is a stylish, intuitive and robust yet free WordPress eCommerce theme for brands that strive to establish its web presence. It's another cool option for your apparel store, mobile, furniture, cosmetics, fashion and other related stores. This fully responsive theme can be one of best tool you can acquire if you're budget is tight.
LZ Fashion ECommerce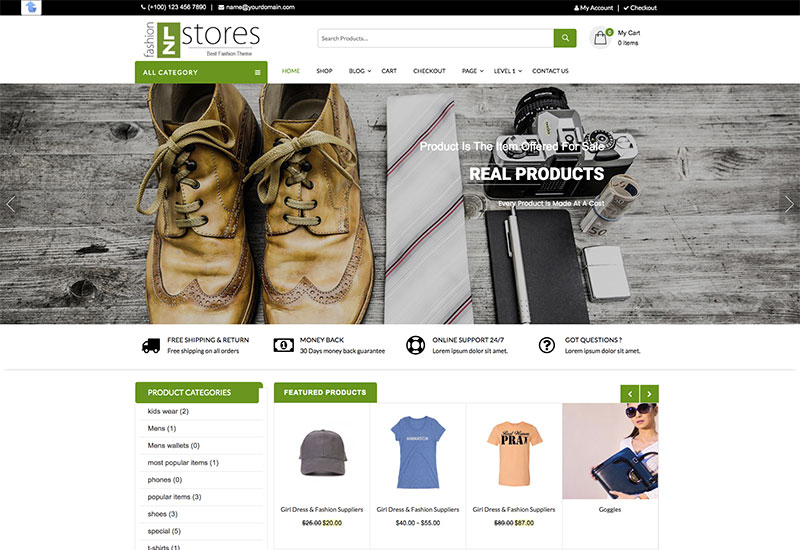 Are you looking for the fantastic WordPress theme for your eCommerce site? If you're in the fashion business, you shouldn't miss LZ Fashion eCommerce. It's an elegant, resourceful and sleek theme that you can freely download for building a seamless store. Though it uses fashion products as default, it can also be used for different products. This free eCommerce theme is cross-browser compatible, lightweight, and SEO ready. Of course, it is fully responsive so you can acquire customers regardless of the devices they use.
oStore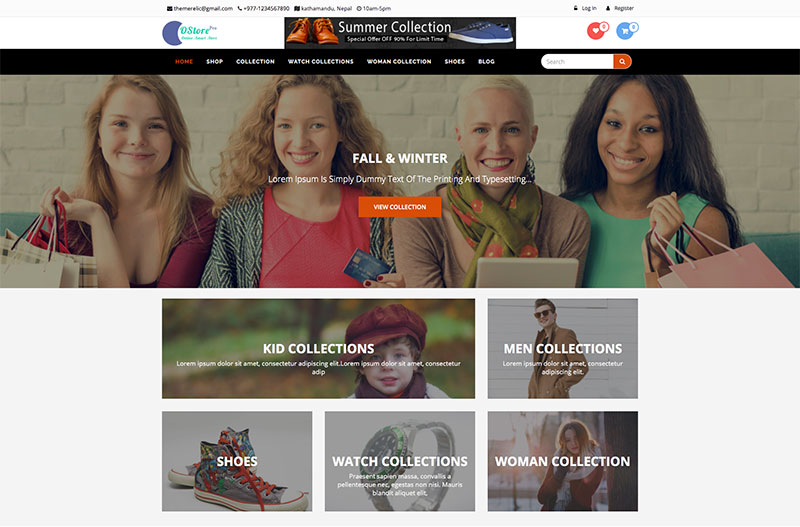 Here's another responsive, resourceful and free WordPress eCommerce theme that exist to help you put up a professional online store. oStore can showcase your products with style so it will look more attractive. It's fully compatible with WooCommerce, YITH WooCommerce Wishlist, Quickview, and Compare plugins. With this theme, you can easily display the latest products in your store, hot deals, popular ones and more! Check out the lovely features this theme has for you!
Multipurpose eCommerce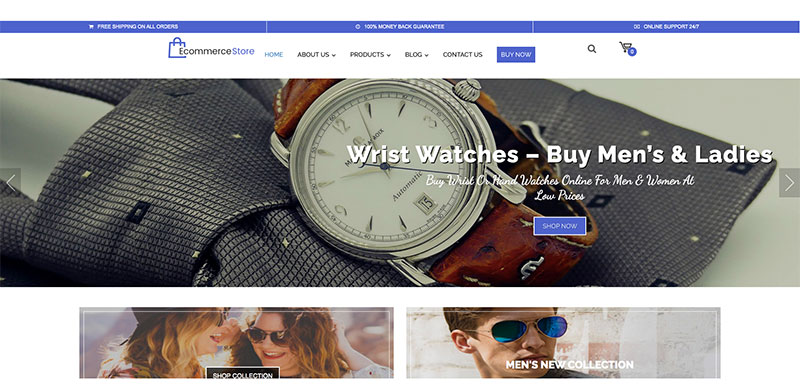 Multipurpose eCommerce is a free eCommerce theme built using the WordPress platform. It can help you create a stunning online presence best suits for online book store, apparel store, fashion, cosmetics, jewelry or other products. It's a WooCommerce theme that's mobile optimized. With this theme, products will look professional and seamless. Specifically, you can use fullwidth images, have a descriptive call to action button, and cool animation upon hover. Additionally, this theme offers faster page load time for awesome website performance.
Perfect eCommerce Store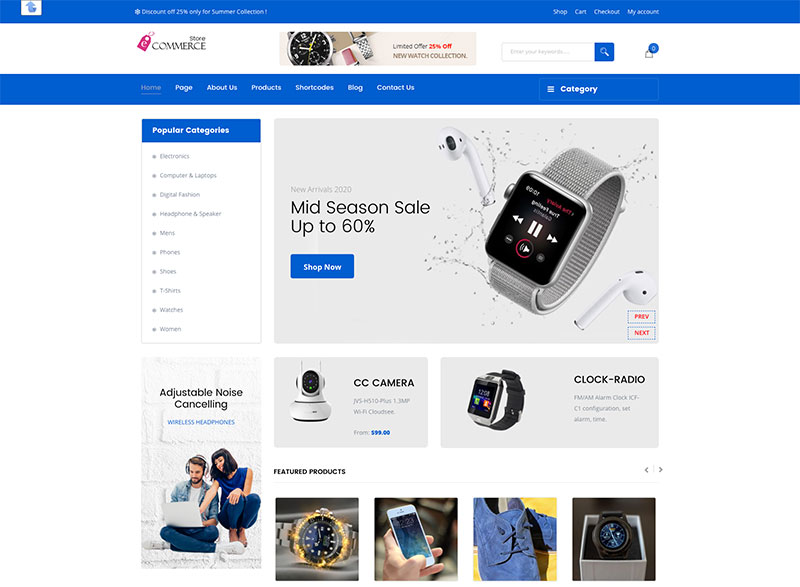 Perfect eCommerce Store is a free WordPress eCommerce theme that has a clean and modern design. It fits for different stores including fashion, digital products, technology, furniture, etc. This user friendly and easy to customize theme can bolster your store with minimal efforts. It comes with banner slider for displaying featured products, good call to action buttons, nice header design, social icons and more worth checking features.
Top Store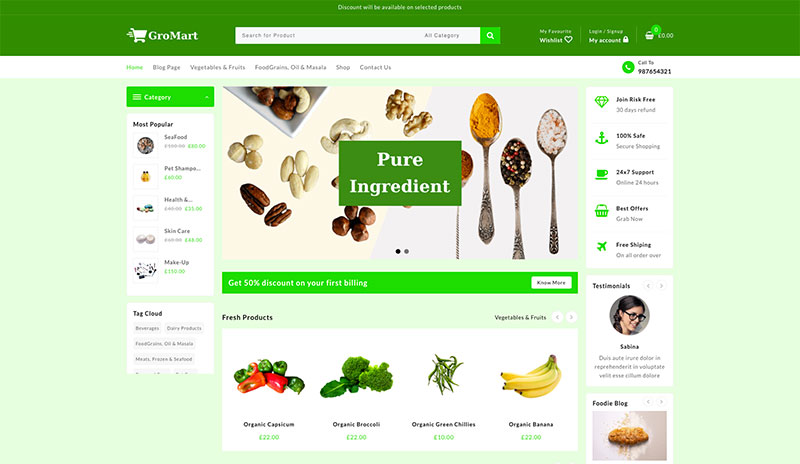 Have a glimpse of these free WordPress eCommerce themes that we've collected for your business. Top Store is a powerful and fully responsive theme that's fully compatible with WooCommerce. It comes with flawless, detailed design of header and footer layout. With this theme, you have basic options for the background color of the website. Hence you can pick the color scheme you wish to utilize to represent your brand. Other notable features include sticky header, sticky sidebar, social icons, testimonial widget, banner section, top slider section and more!
Maxstore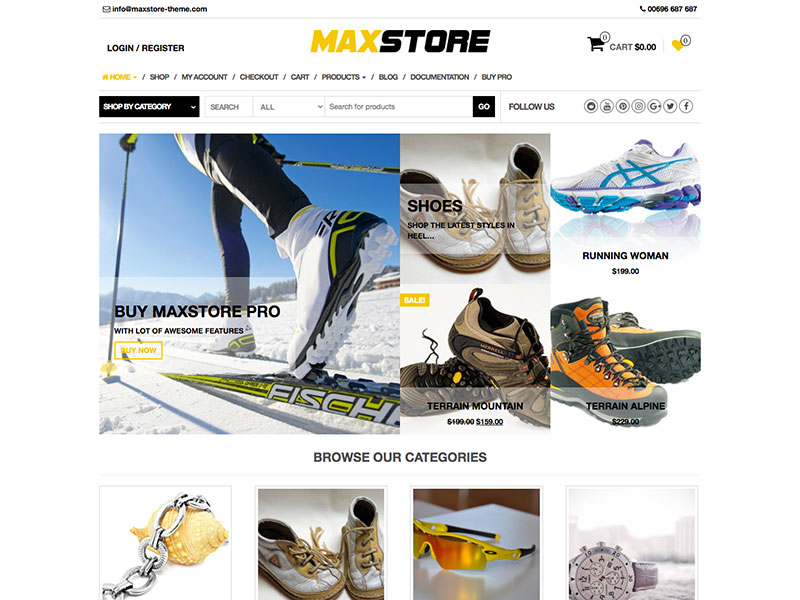 Maxstore is a cool choice for businesses who wish to have an excellent store in the web. It is built with responsive design so the website will look great on diverse devices. This WooCommerce theme is also SEO friendly with intelligent structure to ensure best results for search engine ranking positions. Whether you use this for online store or downloadable products, Maxstore is ready to make your brand shine!
Own Shop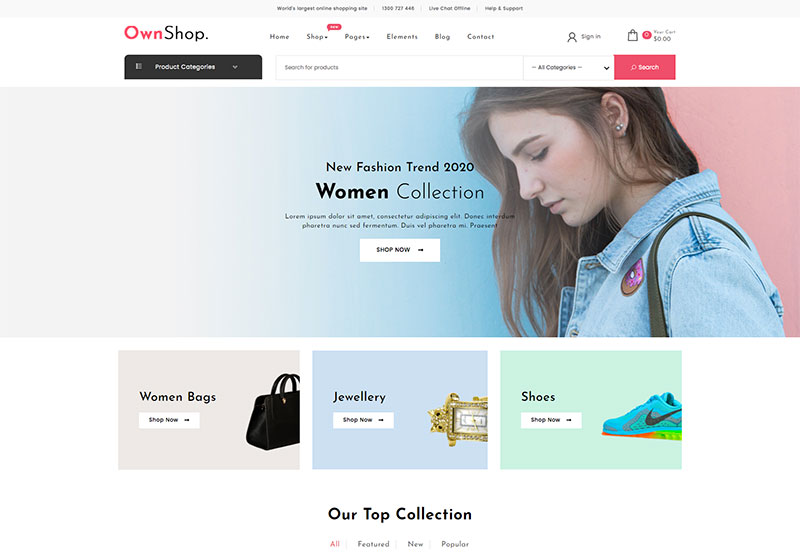 Get the coolest and free WordPress eCommerce theme from this list and kickstart your online store with ease. Own Shop lets you own your online store with minimal effort. This theme lets you set up your website easily with one click demo import feature. It is fully compatible with WooCommerce and comes with custom widgets to make the shop even more appealing and functional. Own Shop also has customizer theme options to easily customize the design to your preference.
Open Shop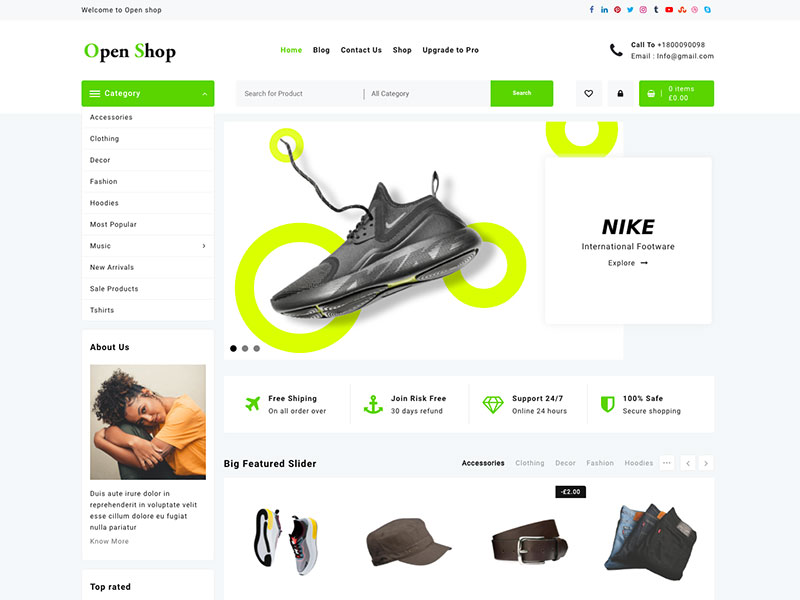 Open Shop gives you another wonderful option to build a web presence for your brand. It opens wonderful opportunities for businesses that want to sell products online. With this free theme you can create a beautiful shop -looks beautiful in all browsers and across devices in a matter of minutes. It's easy to customize with features including widgets for a quick view, sticky header, preloader, social icons, top slider, product carousel, Instagram banner and more!
Online eShop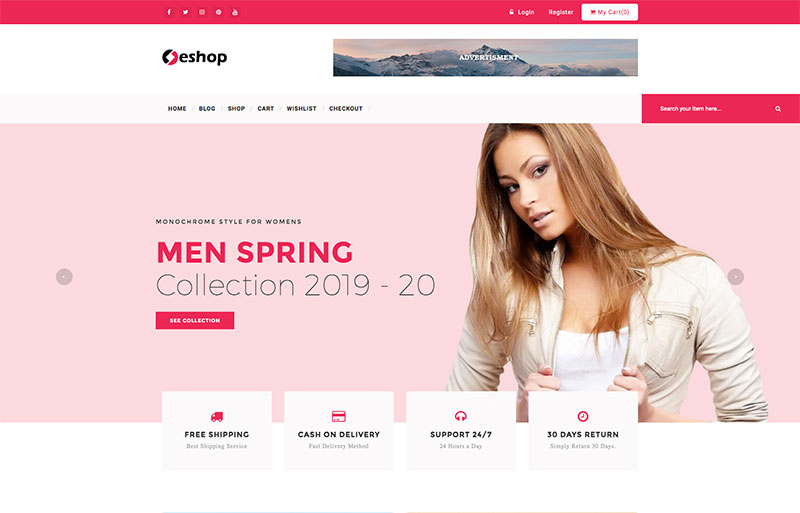 Your website deserves the best eCommerce theme to make the most of your web presence. Online eShop is a free eCommerce theme that contains the features you need to create stunning online store. This theme supports popular plugins like Contact Form 7, JetPack, WooCommerce and more. These plugins indeed extend the functionality of the theme for ultimate performance. It also enables you to edit the website with ease as it comes with Customizer.
StoreCommerce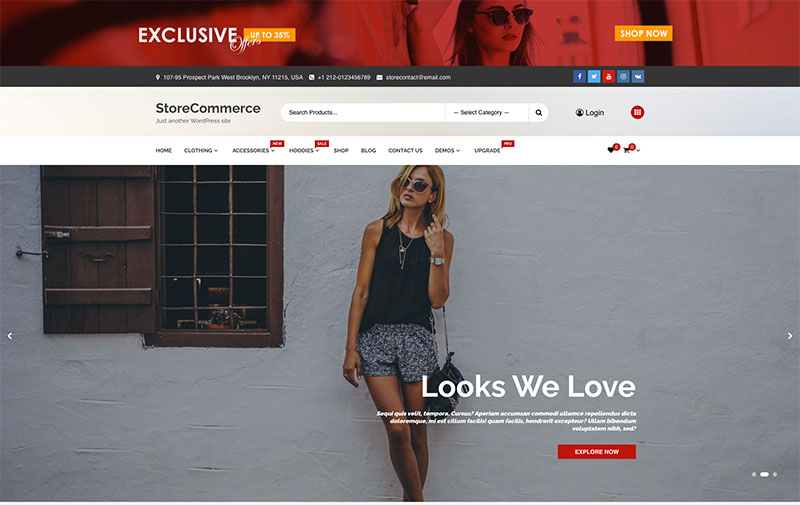 StoreCommerce is a simple but comprehensive theme that's worth acquiring. This free eCommerce theme has advanced and flexible design making it a must-have tool for entrepreneurs. It's fully responsive and integrates useful WordPress plugins to extend the functionality of your website. With this theme, building a seamless website is always possible. With the help of the Live Customizer, you can easily pick the options you prefer in setting up your website.